Matching Tats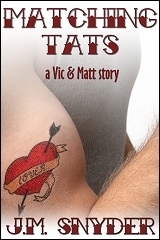 Powers: Chameleon skin, accelerated healing ability
Length: 10,155 words
ISBN: 9781611520255
Jump to: Buy Links • Excerpt • Reviews
Vic Braunson's latest tattoo makes his lover, Matt diLorenzo, decide that he might want to get inked, too. He'd like a heart with his lover's initials in it. Vic likes the idea, and agrees to get the same tattoo, with Matt's initials inside. They have fun deciding where to put the tattoos -- a spot Vic hasn't already covered turns out to be pretty hard to find.
Once they decide where to get inked, Matt fears he may not be able to go through with it. He's more than a little skittish when it comes to needles, and watching the tattoo artist at work is frightening. With the powers love gives him, however, Vic finds a way to help Matt overcome his fears...
NOTE: This story appears in my print collection, Vic and Matt Book I: Origins.
E-Book
JMS Books • Amazon Kindle Unlimited
Barnes & Noble • Bookstrand • Kobo • Smashwords


Excerpt
Note: may contain sexually explicit scenes of a homoerotic nature.
Vic opened his hands and held out a small booklet of temporary tattoos. Matt stared at them, confused. "Why'd you get these?" he asked, taking the booklet from Vic. He flipped through it -- the tattoos were black, and all of the same Chinese character. Some were large, the size of his palm; some were tiny little rows of the same symbol, written over and over again. Matt turned the booklet over and saw the design printed on the cover, the word LOVE written beneath it. He laughed. "How sweet. This doesn't change my mind, though. I still want that damn heart."
"This is just for fun," Vic told him. Taking the booklet, he tore out the first page, then handed the rest to Matt. "There's some instructions on the back. Read them to me. Where do you want this one?"
Laying back against the pillows, Matt pulled down the bed sheets to expose his hip. "Here?" he asked, pointing to a flat spot low on his belly. His stomach fluttered when Vic touched it. "How does it stick to the skin?"
"Read the directions," Vic said again.
Matt frowned at the booklet, trying to read the fine print typed on the back cover. "Apply to clean, damp skin --"
A warm tongue licked the spot Matt chose. The sensation, so sudden and unexpected, ignited his blood and tented the sheet covering his crotch. If that was how they were going to play, Matt could think of a dozen sexy places to put that tattoo. With a shaky laugh, he pulled the sheets over an inch and pointed again. "Maybe here instead."
Vic's tongue darted out to lick that place too. Dropping the book of temporary tattoos, Matt gripped his hard cock through the sheets and gasped. As he watched, Vic nosed the sheet aside, his tongue licking beneath the fabric to wet down kinked curls. He found the root of Matt's shaft, licked beneath it to taste his fuzzy nuts, then leaned in to close his mouth around the base of Matt's erection. "God," Matt sighed.
Vic's breath tickled Matt's saliva slicked skin. "Well?" he asked. "What next?"
Matt fumbled for the booklet. "Um ..." The words swam before him, unreadable. His nerves buzzed, his mind a blur -- Vic's body was a familiar weight against his legs, and Matt couldn't concentrate on the fine print with his lover's tongue lapping his hip like a grooming cat. He wanted that tongue beneath the sheet again, around his dick. Could they put the tattoo there?

Reviews
Coffee Time Romance: 5 out of 5.

"This is a breathtaking account of how these two men, love, live and learn together, it is something I think we can all learn from. Readers will be pleasantly and tearfully waiting to see if Matt goes through with his decision. The charming way these characters worm their way into readers hearts will have them begging for more!"

Fallen Angel Reviews: 4 out of 5.

"Snyder has ... allowed the readers to see more closely into the minds and emotions of Vic and Matt. Matt's fear about his lovers staying with him just for the powers are mostly gone by Vic's very obvious love and devotion. Matt is able to see beyond Vic's exterior to the loving man inside."

"Matching Tats is terrific! It's sexy and romantic and a lot of fun. I love the way Matt and Vic interact with each other. They have such a strong connection."

Literary Nymphs Reviews: 5 out of 5.

"A fun follow-up visit with Vic and Matt ... With a touch of fantasy, J.M. Snyder creates a well detailed world filled with love, romance and plenty of passion. Matt and Vic are a charming pair that are sure to win a piece of every reader's heart."

Rainbow Reviews: 4 out of 5.

"Together [Vic & Matt] create a love that fulfills each of their needs as they support each other through life's obstacles. Thanks ... for another fun read."

Reader Review by Elisa Rolle.

"Vic is a really tender character: he has a rought look, but he is like a teddy bear and Matt is overwhelmed by this man, by all the love this man can share. Hot and joyful sex scenes."

Reviewed by Frost: 5 out of 5.

"Weaving in the comic book fantasy elements in a realistic way that zooms right past the reader's potential disbelief, J.M. Snyder ignites our erotic sensibilities while tugging our heartstrings. I don't think any reader will close these two tales (Matching Tats and The Powers of Love) without a smile and maybe a tear of joy."

Two Lips Reviews: 4 out of 5, with a "heat level" of 1 out of 3.

"A wonderful romance that takes everyday life and mixes it with a little bit of magic, humor and lots of passion to create an entertaining book."