The Powers of Love
The First Vic and Matt Story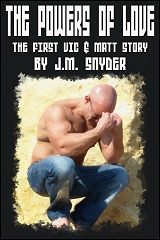 Powers: Telepathy, super strength
Length: 15,768 words
ISBN: 9781611520187
Jump to: Buy Links • Excerpt • Reviews
With his shaved head, piercings, and tattoos, the muscular Vic Braunson isn't one who falls hopelessly in love at first sight. But when he meets swim instructor Matt diLorenzo at the gym, sparks fly ... despite the fact that Matt is dating Vic's co-worker.
Then a chance encounter months later brings them together. When they finally consummate their relationship, there's no denying the energy between them. But the next morning, Vic awakens to find his mind crowded with a myriad of thoughts, none of them his own. After their second night of making love, Vic is filled with unparalleled strength. Oh, and now he can fly.
Suddenly Vic is filled with questions he doesn't know how to answer. First, just what exactly is going on here? And how does he tell Matt without alienating his new lover or ruining their budding relationship? Or does Matt know something he, himself, is only now discovering?
NOTE: This story appears in my print collection, Vic and Matt Book I: Origins.
E-Book
JMS Books • Amazon Kindle Unlimited
Barnes & Noble • Bookstrand • Kobo • Smashwords


Excerpt
Note: may contain sexually explicit scenes of a homoerotic nature.
Vic's hands fisted in Matt's hair, then bunched in the bed sheets as Matt spread him wider to taste the coppery musk of his anus. "Please," Vic sobbed -- part of him couldn't believe he was reduced to this so easily, a man like himself, grown and begging to be fucked, but he ached with desire and wanted Matty to take him again and again. His knees clenched around Matt's head. "God, Matty, just ..."
His voice disappeared, words unable to describe his need. After an eternity, Matt finally sat up between Vic's legs and the head of his own hard cock butted against Vic's ass cheeks. "Tell me you want me," Matt said.
"Yes."
With his hands on Vic's knees, Matt spread his legs farther apart and pushed against him slightly, just enough to get the tip of his dick against that first clenched muscle. "Tell me how badly you want me."
In frustration, Vic growled, "Matty --"
One hard shove and Matt filled him completely, crawling over Vic to kiss away the discomfort of entry. They found a rough rhythm, fast and almost angry, each fighting against the other to get off first. This wasn't yesterday's gentle lovemaking but something deeper, harder, much more raw. Vic clenched his hands in Matt's buttocks, the olive flesh whitening beneath his grip as Vic pulled him in and refused to let go. He needed this, only this. Yes.
As Matt thrust into him, his panting breath hot and heavy in Vic's ear, Vic found himself thinking about those stupid thoughts that had haunted his head throughout the day. Had he really been reading minds? He didn't think so, but how would a talent like that enhance a moment like this? What would it feel like to be both lovers during sex? To savor the penetration and the slick skin wrapped tight around his cock at the same time? To be the tongue that caressed his balls and the mouth that suckled them, as well? To experience the intimate act of making love as both partners at once?
To come in a fiery rush that sparked his lover's orgasm, to shudder beneath a dual wave of release, to wrap his arms around himself and stare into his own eyes and hear his own voice murmur softly against his chin, "I love you." To feel the strength and safety of his own arms as he held himself close. What would that be like?
Vic clung to Matt with a fierce embrace and tried to imagine himself behind those deep green eyes, but the power or whatever it had been earlier was now gone. He was alone inside his own head, and Matt's soft kisses and tender touch told him all he needed to know about how his lover felt for him.

Reviews
Coffee Time Romance: 5 out of 5.

"A unique fantasy where the super hero does not quite know what to do with his powers. The message I got from this story is accepting someone for who they are and loving them in spite or perhaps because of it. The connection between the characters is so strong and passionate, you can't help but want to be there with them ... A must read for those who love to lose themselves in a great book."

Fallen Angel Reviews: 5 out of 5.

"Snyder has created a unique twist on the idea about someone gaining powers way beyond the norm ... I will be waiting to read more about the lives and adventures of Vic and Matt. Thanks ... for the start of what looks to be a wonderful series."

"A story about love under extraordinary circumstances. Matt and Vic have to trust in the power of their love when their relationship turns from normal to unconventional. It's a very good story."

Literary Nymphs Reviews: 4.5 out of 5.

"A romantic fantasy that's delightfully fresh and fun. The unique storyline shines through with a smooth mix of romance and humor that will keep you wondering what might come next. Snyder weaves a solid tale that takes readers along on Vic's bizarre journey as Matt's lover. A sexy, passion filled story that's wholly entertaining."

Love Romances & More Reviews: 4 out of 5.

"A delight to read [that] ... definitely captures the readers' imagination with witty comments, tight writing, and a fast pace that will keep you guessing at what happens next for these two as well as what the heck is happening to Vic."

Rainbow Reviews: 4 out of 5.

"These guys are great together and it was fun watching them fall in love. I especially liked how Vic opened himself up to loving Matt, and how he was willing to make adjustments in his life to accommodate Matt's presence. Matt is a lot more easy-going and fell more naturally into the rhythms of Vic's life, to their mutual delight."

Reader Review by Elisa Rolle.

"A strange and brief tale, I believe J.M. Snyder is considering to write more about this couple. Stil it's very interesting cause the character of Vic is irresistible: he looks like a wild bear and instead is a teddy bear. I'm curious to see what J.M. Snyder will do with this wonderful character."

Reviewed by Frost: 5 out of 5.

"Accomplished author J.M. Snyder sizzles the pages with this short but powerful tale. Readers of all sorts will climb to the heights and slide to the depths as Matt and Vic try to work through their differences in the face of Vic's sudden new abilities. Snyder writes in the fantasy/comic powers elements as if they are realistic and possible, and leaves the reader hungry for more of Vic and Matt."

"An inventive and moving tale about two men trying to adjust to each other. I was pleasantly surprised by how the story unfolded ... I was also blown away by the paranormal aspect hidden in between the pages. Vic is a character who captured my attention from the beginning ... a super sexy read that takes the fantasy of how incredible sex can make anyone feel like Superman."

Two Lips Reviews: 4 out of 5, with a "heat level" of 1˝ out of 3.

"A unique and interesting story. Despite his rough-looking outward appearance, Vic is a gentle and loving man. The happiness and hope he feels when he's with Matt is beautiful and touching. Matt's past has forced him to be cautious when it comes to relationships but Vic's commitment to him breaks down those barriers, showing that he is truly a very fortunate man. Snyder balances this beautiful love story with interesting fantasy dynamics that will entertain and delight any reader."