Clasping Position
Book 3 of The Positions of Love series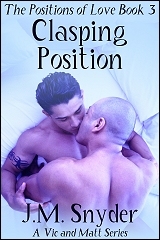 Powers: Pyrotechnic generation
Length: 6,325 words
ISBN: 9781611520521
Jump to: Buy Links • Excerpt • Reviews
Valentine's Day. The holiday for lovers.
Though Vic had difficulty finding a suitable gift for his lover for Christmas, Matt has the perfect evening planned. He's made reservations at an expensive steakhouse for the two of them, and plans an intimate dinner as a prelude to a night of love.
But things get a little frisky before they leave for the restaurant, and the "Clasping Position" causes more sparks to fly than either of them expect.

Excerpt
Note: may contain sexually explicit scenes of a homoerotic nature.
Valentine's fell on Thursday, Vic's first free day. Matt left him curled beneath the bed sheets, a kiss on his forehead. "Our reservation's at seven," he whispered, running a hand down Vic's body, hidden under the covers.
His lover's reply was an unintelligible grunt, and the sleepy thought, ::Love you.::
When Matt called home on his lunch break, Vic was awake but still very tired. "This shift always kills me," he told Matt. "I'm too damn old for this."
"Oh please," Matt said with a laugh. He doodled on his phone pad as he stared out his office window at the empty gym pool. "You have more stamina than men half your age. God knows, you're sexier, too."
Lowering his voice, Vic growled, "Speaking of sex ..."
Matt laughed again. "Tell me about it. If I don't get a piece of you soon, things are going to get ugly."
"I'm still up for staying home," Vic told him.
"Dinner first," Matt said. "Then dessert. You gonna be ready by the time I get home?"
Now it was Vic's turn to laugh. "You said seven. You want me ready at five? I was thinking of laying down for a bit. I could use a nap."
"Old man," Matt teased.
Vic agreed. "I told you."
A glance at the clock on his desk showed his lunch hour almost gone. Stretching in his chair, he told Vic, "You nap. I'll wake you up when I get in. What are you wearing?"
"Right now?"
Suddenly an image rose in Matt's mind, sent through the telephone wire -- Vic in his favorite flannel robe, sitting at the dining room table. The robe hung open to reveal his smooth chest, his shaved genitals, and as Matt closed his eyes to savor the mental picture, he saw his lover's hand stray to his crotch and fondle himself. In the confines of his pants, Matt's dick grew heavy with lust. "Oh Lord," he murmured. "I may not make it 'til five."
"What'd you say?" Vic joked. "This was dessert?"
"I'm going to eat you up tonight," Matt sighed.
Vic laughed. "You promise?"

Reviews
"I loved watching how the powers unfolded and waching the way that Vic and Matt handled the difficulties they caused. Vic and Matt are a good example that opposites do attract. The love between them is both poignant and beautiful to behold."

"A hot story, both sexually and literally!"

"Even if Matt is a dominant in the bedroom, it's Vic who is the steady guy in the couple ... another short, less than 25 pages, but funny enstallment in the Positions of Love series, that it's becoming like a monthly appointment for me."

"This third position generates quite the response from Vic ... which luckily was well appreciated by Matt. Next power? Off I go to read book four to find out the answer!"