Two Pillars Position
Book 2 of The Positions of Love series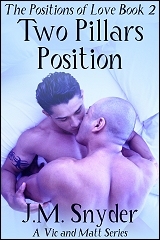 Powers: Intangibility
Length: 6,537 words
ISBN: 9781611520507
Jump to: Buy Links • Excerpt • Reviews
Vic works out at the same gym where Matt is employed as a swim instructor.
Some mornings, Vic stops by the gym to bench-press a few thousand pounds, show off for his fellow bodybuilders, and spend some time with his lover before he has to start his day.
A quickie in the pool showers seems like a good way to get the blood pumping, but what power will a position called "Two Pillars" give Vic?

Excerpt
Note: may contain sexually explicit scenes of a homoerotic nature.
In the shower, Vic rubbed down over his shaved groin, gasping when the loofah scratched along his heavy cock. It was an almost painful sensation, but Vic fisted himself through the loofah and thrust into it, his fingers massaging his balls as he soaped up. He lingered long enough to get aroused, then ran the loofah down his legs. When he bent over, his hard dick bumped against his stomach, sending shivers of delight through his body.
Then a hand eased between his legs, fingers curving between his buttocks.
Caught off guard, Vic stumbled into the wall of the shower, his lover's name on his lips. "Matt," he sighed, a sound lost as the shower curtain was pulled open, then closed.
With one hand smoothing along the cleft of Vic's ass, Matt pressed his chest against his lover's back and kissed Vic's shoulder. "You looking for me?" he purred.
Vic arched his back to push his buttocks against Matt's crotch. He felt his lover's own erection strain against the slick Lycra of his swim briefs. Moving his hips, Vic rubbed back into Matt, his buttocks clenched as that sheathed cock slid between them. Still hugging the wall, he turned his head, mouth open, eyes shut at the sensations that rose in him at his lover's touch. Matt's next kiss landed on his lips, his warm tongue licking into Vic, possessive, eager.
Matt's arms wrapped around Vic's body, one high across his chest, the other angling for his dick. Gentle fingers smoothed over his soapy balls, fondling them, then stroked beneath Vic's length slowly, petting him. Another touch tickled his right nipple, plucking it, teasing it erect. The shower rained down around them, and the water seemed to sizzle with their lust. When Matt began to trail kisses along his lover's jaw line, Vic growled, "Take off those damn Speedos and fuck me already."
"You're so romantic," Matt teased as he leaned against Vic, his arms tightening around Vic's waist. Only those wet briefs kept them apart.
"Romance later," Vic promised. "But I gotta get to work. Fuck me now."

Reviews
Fallen Angel Reviews: 4 out of 5.

"Together Matt and Vic create a love that isn't just beautiful to see, but can at times seem like they come right out of a comic book. I for one can't wait to find out what will happen next."

"I love the connection Matt and Vic share ... It's so hot that Vic is submissive. The power Vic gets ... is inconvenient ... but Matt finds it hysterical and so did I!"

Reader Review by Elisa Rolle.

"For who loves Matt and Vic adventures, made of the very nice men in love, this is a really tasty add. What I like of Matt and Vic is that they are two real characters, in an unreal situation."

The Romance Studio: 5 out of 5.

"These two guys have quickly become a favorite of mine ... The portrait the author paints of the two in my mind is a little Hulk Hogan in love with Michael Phelps! The two together are a perfect example of a gay couple that works well together with or without the super powers."

Two Lips Reviews: 5 out of 5, with a "heat level" of 1 out of 3.

"As with the first position Vic experiences an interesting reaction to their creative encounter -- which was hilarious and amusing to me but incredibly frustrating for him ... This new development just begs the question: what power will Vic experience next? The answer to that is in the next book and I can't wait to find out."